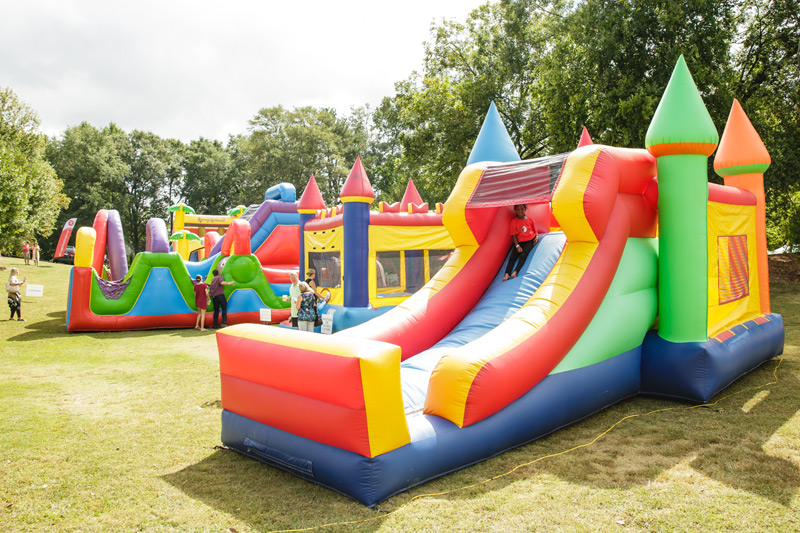 2021 Booth Applications are NOW being accepted. (Date TBA)
FESTIVAL FOOD & KIDS VENDOR BOOTH DESCRIPTION (10×10 or 10×20 Area)
The Atlanta Chili Cook Off is a 1- day city wide community event; as such, booth space is available to festival food & Kids vendor booths. All applications must be postmarked and paid by September 1st. Please read all materials before completing the form below:
FESTIVAL FOOD VENDOR ELIGIBILITY (Only 1 -2 Spots Available for This Event)
Please email us first on your food offerings through our contact page  and we can let you know if we have availability and then you can send in an application. All food vendor booth applications will be first come – first served. To guarantee a space for this year's event you complete the application and have payment in full. (No later than September 1st.)  If you are accepted into the event we will contact you by September 1st or earlier to let you know your acceptance.  Food vendors are selected from submitted applications and researched prior to approval and booth fees will not be charged until you are notified of your acceptance into the event.  Event producers will do their best not to duplicate vendors. The Atlanta Chili Cook-off reserves the right to define a food vendor booth and items allowed to be sold at the event.  Only food items can be sold, Alcoholic & non alcoholic beverages are not permitted to be sold at the event.  Failure on the part of any booth vendor and/or the booth vendor's staff to adhere to the rules and policies will result in removal, forfeiture of fees and inability to return to for future events.
APPLICATION PROCEDURE
Upon receipt of your application, the Atlanta Chili Cook Off will send an acceptance email notification.  Within 2 weeks of event date you will receive detailed information about set up and breakdown procedures. All notifications of acceptance will be communicated by September 15th. If for some reason you do not receive a reply by then, please phone (404) 456-4655.
APPLICATION CHECKLIST
Applications submitted must include the following:
Application completed online or mailed in full and legible.
Payment in full via Paypal, Check or Credit Card by September 1st once booth is approved by event organizers.
All returned checks are subject to a $35 service fee.
RULES & REGULATIONS
Booth fees are non-refundable
Check or credit card payment must be included with your application. Applications will not be processed without payment in full if you are selected.
Exhibitors' are responsible for safe storage containment and full value of all materials.
Electricity is available for a fee.
Exhibitors are not permitted to bring alcohol or pets into the event area.
Exhibitors may not sublet any portion of their space to another exhibitor.
Open flames are not permitted.
All returned checks are subject to a $35 fee.
The Event Producers is not responsible for any items lost or damaged.
ITEMS NOT ALLOWED TO BE SOLD
Alcoholic Beverages
Non Alcoholic Beverages (Water, Soft Drinks & Sports Drinks)
ADDITIONAL POLICIES
Booth participants are responsible for the security of their property.
Groups must comply with all ordinances, codes, laws, rules and regulations of the city, county and state.
The Atlanta Chili Cook-off retain the right to refuse or limit vendors.
The Atlanta Chili Cook-off is not responsible for injury or loss due to fire, theft, vandalism or weather.
Booths must be staffed for the entire hours of the event, unless otherwise indicated by the event producers
The Atlanta Chili Cook-off s will be inspecting booths of chance and sales. Items deemed inappropriate will not be allowed and the booth vendor will be asked to remove the inappropriate items.  Failure to comply could result in closing of the booth.
Distribution of handouts, flyers, literature or promotional items will not be allowed outside of the designated booth space.
Politicians may mingle in the crowds, but only verbal promotion will be allowed. No distribution of campaign literature or promotional items will be allowed.
OVERVIEW
TENTS:  ALL TENTS MUST BE SECURED AND WEIGHTED DOWN WITH A MINIMUM OF 30lb WEIGHTS ON ALL FOUR CORNERS. The tent should be secure enough to withstand any thunderstorms that are not uncommon this time of the year.
BREAK DOWN:  During breakdown, which will occur on Saturday at the specified time, exhibitors by chance may not be able to park their vehicle right next to their booth space. Every attempt is made so exhibitors can get as close as they can to their booth space to load their vehicle. A handcart is recommended to assist exhibitors.  Event times are from noon until 5pm.  No cars allowed into event area until after 5pm. 
SET UP:  Each exhibitor is assigned a set up time to prevent congestion at the event. Included with the exhibitor acceptance package a specific set up time is given along with one parking permit. In order to have a successful set up for all exhibitors it is important to adhere to the arrival times and have all information ready available upon arrival. There will be additional event vehicles and vendors who are arriving for set up around the same time as other vendors. Exhibitors who arrive late should be aware that the event area will be closed to all vehicles at a designated time.
If exhibitors arrive after the streets are closed to vehicle traffic, exhibitors will have to park outside the event and carry/cart materials to their assigned space. Upon arrival to the event area, exhibitors will be asked the booth number and then you will be directed to the booth location. Be prepared to unload all materials/supplies that are needed to set up the booth. Exhibitors will be asked to park their vehicles off event area once all materials are unloaded. Event marshals will assist in directing exhibitors where to park. Parking is within walking distance. Exhibitors then return to their booth to continue set up of their booth.
Exhibitors are to be prepared to have their exhibit ready for public viewing/shopping on Saturday by 10:30 a.m.  No Cars will be allowed in area after 10am.  This means you must have all booth equipment, items etc dropped off by 10am.
PARKING:  Parking is not allowed in the festival area. We will have a designated are for vendors for parking and will send you a map indicating this area.
WEATHER:  The Atlanta Chili Cook Off will not be cancelled in the case of inclement weather. Exhibitors are to be fully prepared to protect against adverse conditions, such as rain, wind, sun, heat, etc. If severe weather conditions persist, i.e., thunderstorm/lightning, the event will temporarily close down and then reopen. Vehicles will not be allowed in the event area during cloudbursts – please be prepared to protect your merchandise. Exhibitors are expected to reopen their booths as soon as possible once the weather has cleared and the event reopens. No refunds will be issued for inclement weather.
SALES TAX:  All exhibitors are required to pay tax their own taxes and the Atlanta Chili Cook Off  is not responsible for any and all sales made at the Atlanta Chili Cook Off.