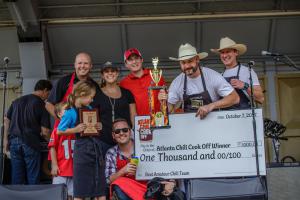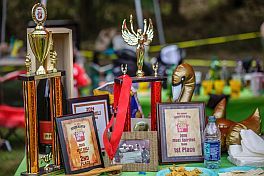 Calling all Restaurants / Caterers & Amateur Cooks!
AMATEUR, RESTAURANT & JUNIOR CHILI COMPETITION INFO 
$5000 in Total Cash Prizes, Trophies, Plaques, Medals & Gift Certificates!!!
THE MORE CHILI YOU COOK – THE MORE SAMPLES YOU CAN SERVE – THE MORE VOTES YOU GET!
Chili competition teams must cook 7 – 10 Gallons.
4 Competitions: Best Amateur, Restaurant, Most Spirited Team & People's Choice Award!
Best Chili Amateur Division:  Prize money, plaques and/or trophies & gift certificates will be awarded to top 3 winners.  (1st Place – $1000, 2nd Place – $500, 3rd Place – $250)
Best Chili Restaurant/Caterer Division: Prize money, plaques and/or trophies & gift certificates will be awarded to top 3 winners.
Most Spirited Team:  The team that embraces the spirit of the festival will be judged on a combination of best booth presentation and best outfits / costumes.  1st, 2nd & 3rd place will be given awards and gift certificates.
People's Choice Award:  Festival-goers will vote for their favorite chili.  Trophy and/or a plaque will be awarded to top winner.
Payment Options – Fees includes early entry into Cook Off, tasting cups, one 6 foot table, 2 commemorative serving spoon & 2 festival tasting spoons. (Invoice can be provided upon request)
Mail check to Armus Media Group LLC, 2870 Peachtree Rd, Ste 475, Atlanta, GA 30305. Booths fees are non refundable.
Atlanta Chili Cook Off Competition Judging Info
(Chili Competition will be Judged by following Rules and Regulations for each of the two divisions)
The judges will be doing a blind taste test.  You can source any ingredients for your submissions and for sampling to the public.  We recommend cooking off-site the day before the competition. You must have a minimum of no less than 7 gallons to participate. (7-10 gallons are recommended)
No specialty small batches will be permitted or judged. Each judge will taste around 20 chili entries.  After initial tasting, the judges panel will select the finalists and possibly come back to get additional samples for final judging if needed.  We have a minimum of 10 judges made up of chef/restaurant owners, BBQ judges, Media celebrities & Atlanta foodies.
Judging Criteria for Best Chili
AROMA – Should smell appetizing.

CONSISTENCY – Should be a smooth combination of meat and gravy.
COLOR – Should look appetizing.
TASTE – Should taste good.
AFTERTASTE – Should leave a pleasant taste after swallowing.
For QUESTIONS, SPONSORSHIP AND VENDOR BOOTH info please Contact Us .