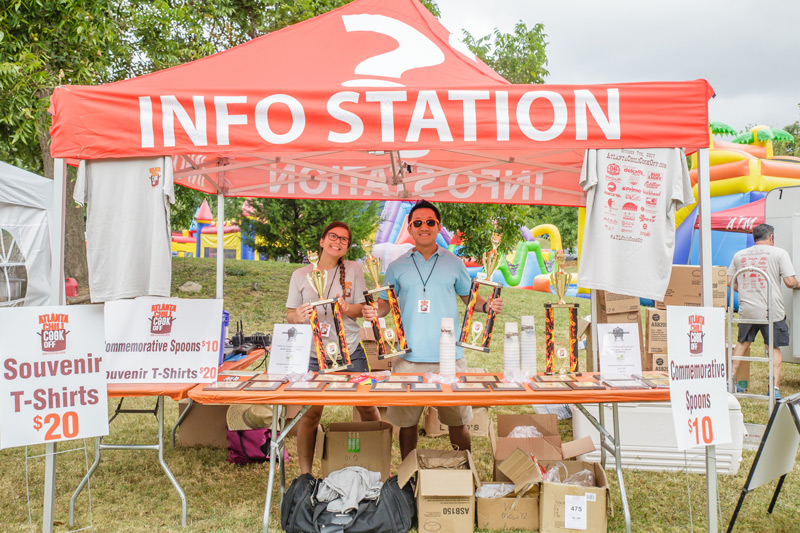 1. How do you sign up to compete as a chili team?
Please go to this link for registering in the cook off: Register
2. Is it free event?
No, event is ticketed event and Kids 10 & Under are free.  Click here for tickets!
3. Is this event only 21 and up?
No, It's fun for the entire family but you must be 21 to drink alcohol.
4. How do I get to Brook Run Park & where do I park?
Brook Run Park is located in Dunwoody at 4770 N Peachtree Rd, Dunwoody, GA 30338.
We encourage festival goers to take Lyft, Uber or taxis! ADA Parking is available near the skate park. Please follow signage for additional parking.  Additional parking is located at St Patrick's Episcopal Church (4755 N Peachtree Rd) & St Barnabas Anglican Church (4795 N Peachtree Rd).
5. What am I allowed to bring in to the park?
Personal soft backpack or bag (subject to search for prohibited items)
Chairs
Blankets
Cameras
Diabetics and infant food/beverages
Pets (See #7 below)
Umbrellas
6. What am I not allowed to bring into the park?
Outside Food or Beverages
Tents
Coolers or picnic baskets
Illegal Drugs & Weapons
Fireworks
Glass
7. Can I bring my dog?
Yes, with stipulations, the festival takes place in a park, so we ask that you pick up after your pet and use common sense as to whether your dog would be comfortable among a large group of people.  All dogs must be on a leash at all times.
8. How much is the chili tasting?
Official festival Atlanta Chili Cook Off tasting spoon and wristband are available in advance and the gate. All festival goers must purchase a tasting spoon to gain admittance into the Atlanta Chili Cook Off. Children 10 & under can get a free tasting spoon with a purchase of a tasting spoon by an adult. Purchase Tickets
9. How do I vote for the people's choice award?
You will be given 1 ticket or a wristband with 1 tab at the festival entrance. You then can place your vote at the festival for your favorite Chili by placing your ticket or wristband tabs in the voting box located at each booth.
10. Will Alcohol be sold?
Yes. There will be vendors selling alcoholic beverages to people over 21 with valid ID and a wristband.
11. What will festival have for kids?
The festival has a face painter and the park has a children's playground.
12. Will there be ATMs on site?
Yes! ATMs will be provided in the festival area. We encourage planning ahead and bringing cash or credit/debit cards.
13. If I have a question at festival who do I ask?
Please go to information station at the event entrance with all questions. Look for the red info tent.
14. Where are restrooms located at the Atlanta Chili Cook Off?
There will be portable restrooms and hand washing facilities onsite.
15. How can get to the event or home safely?
Please don't drink and drive!! Rideshare & Taxi's are also encouraged for getting you safely to & from the festival.
16. Who can I contact for further questions about event, sponsorship & vendor booths?
17. Do have ADA parking for the event?
As you approach event let police officers, security or staff know you parking in ADA parking onsite. ADA Parking is available near the skate park.
18. How do I volunteer for the festival?
Click here to sign up to volunteer and we will contact you with more details a few weeks before the festival.
19:  What covid safety measures will be put in place at the festival.  
Festival producers will abide by all current federal, state & city rules, regulations & procedures that are in place at the time of the event.